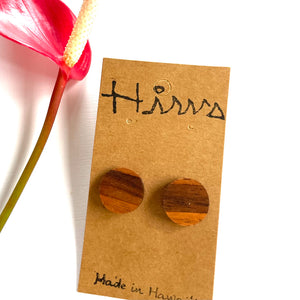 Mahina, moon, Hawaiian Koa Wood Stud earring.
The length is 1.8cm and the width is 1.8cm.
It is finished with 14k Gold filled Stud.
These earrings are laser cut and handmade on O'ahu.
Hawaiian Koa Earring is lightweight and easy to wear.
We repurpose the left over, discarded, or scrap koa from various woodshops and builders and use it to create our pieces. Koa is known and loved for its beautiful and complex figure, colors, and depth. Because of this, some pieces of koa may look similar; But the look of each piece is truly unique and may vary in color and figure.
You will love and enjoy this one-of-a-kind koa earring.